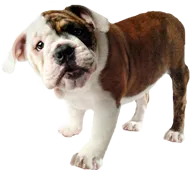 New Patient Registration Form
This lets us record our pet and owners into our management software so that we can effectively and efficiently provide the service you deserve!
What to Expect
When arriving at For Paws, you will be greeted and checked in by one of our receptionists. If your pet is a dog, he or she will be weighed in the lobby.
Once checked in, one of our veterinary technicians will see you into the exam room and get a general history on why your pet is being brought in to see the doctor. If you have a cat, this is when your pet will be weighed.
Either Dr. Jellison or Dr. Pullekins will then meet you, gather basic information about your pet's health, examine your pet, talk about any questions or concerns you may have and plan further diagnostics or treatment as needed.
Any recommended diagnostics tests (i.e. blood work) and treatments are usually performed in one of our treatment rooms.
When the veterinary examination and consultation is complete, you'll go back to the front reception area where your billing and future appointment bookings will be handled.
You can expect a follow-up call from one of our staff members to get an update on how your pet has been doing since their visit. If you have any concerns, talk to the team member about them.
We hope you enjoy your visit and the service we provide. We would be delighted to see you again!